What to Expect From Coaching
Do you feel numb, disconnected, emotionally or physically drained?
All too often we unconsciously push ourselves through life, the scales of balance become tipped and we try to cope by becoming numb, disconnecting emotionally or experiencing physical pain in our bodies. You can find peace thorough presence.
By becoming present to our thoughts, our emotions, our body and what those physical feelings are telling us, we can begin to heal.
It isn't always easy. There are often buried emotions and buried thoughts that we often aren't aware of and you must be willing to work honestly though the areas of discomfort and discontent.
Do you want to connect more deeply to your own soul?
As you navigate through the work you will emerge with more clarity. That's where the exciting discoveries can begin to take shape! It doesn't just end once you do the work, it is only beginning! You will learn how to continue doing the work in your life, but you can also begin connecting with your passions and creating the life you desire through more unique and exciting coaching techniques and tools.
I help women redefine themselves and their lives by guiding them toward more clarity, or building a new foundation and moving beyond the fear and limiting beliefs that hold them back from living life fully.
All experiences are here to teach us something about ourselves. The hardest experiences are often the ones that teach us the most.
Everybody comes to coaching from a different place. No two people are alike. We are all in different places of change, different phases in life and each of our paths lead different directions. I will always meet you exactly where you are at. The most lasting change occurs when we are ready to access our own inner motivation, when we are ready to hear our own inner voice.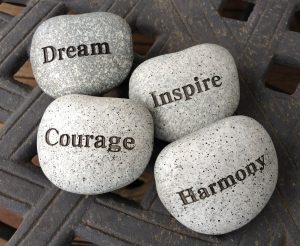 Are you ready for inspiration, empowerment and balance in your life?
Coaching allows you to go deeper, develop more awareness and hear those powerful messages that your body has just for you! It is my hope that through working together you will find emotional, physical and spiritual peace. You will feel hope and discover inspiration, empowerment and more balance in your life. You will achieve goals, despite what appear to be obstacles.
It is my desire that you will connect with your passions and heal your limiting thoughts that have prevented you from connecting fully with who you are meant to be at your deepest level… the you that has become hidden deep within.
Does fear stop you from living your best life?
Only then can you begin to live free from fear, full of life, connected more deeply to your own soul, your body and your senses. You will show up in life more "present," despite struggles, obstacles and heartache. When you are your best self inside, you can create your best life.
When we become more present with ourselves, we become more present in our relationships and in the world. When we do our own work first and heal the internal we can then become a light to others and heal the external. When you find your beauty inside you will find the beauty around you.
Find Your Rhythm Again TM
Heal Yourself and Heal Your World…
Are you Ready To Find Your Rhythm Again?
I work by telephone with clients throughout the US, Canada and Europe. You will receive all the support and feedback needed to create meaningful changes in your life and achieve the results you desire, while establishing a personal coach-client relationship. I find that this coaching process is more effective than coaching in person. You will have the ability to work with me from the comfort and privacy of your own home. Personal phone coaching also allows more flexibility in scheduling our coaching sessions.
Coaching is for the person who desires clarity around a specific area of his or her life and to create a vision for yourself of what it is you truly desire.
Coaching will help you identify the obstacles to your visions, eliminate the fears and self-sabotage, reconnect to your body, release thought patterns that no longer serve you and hold you back from living your best life.
Coaching may help you become more confident, create a greater sense of happiness and purpose in your life, improve your relationships, improve your relationship with food, discover the career path most perfect for you, and learn strategies to move through fear, anxiety, and pain. You will learn to stand in your own power!
If you are interested in working together, we will schedule one 30 minute free consultation to get to know each other and ensure we are a good coaching match. It is important for both of us that we speak before you pay for any coaching sessions. I am committed to you receiving the kind of guidance you desire and need. I want to make sure we are a good coaching match before we both commit to the process.
I believe in you and I am here to support you in making the changes you want for your life and working with you in achieving your desires! Be brave! You are stronger than you think.
Christy is an amazing life coach who has a wealth of knowledge and is a fantastic listener. In my coaching session, she provided techniques and asked questions that helped me tap into my skills, talents, and abilities.

She also helped give me insight into how I could better focus my personal and professional goals in order to achieve my dreams. I highly recommend Christy if you desire to maximize your potential and need clarity in creating the life you deserve.
Italia
Christy is incredibly insightful, caring and compassionate. As a clinical health care provider with over 25 years of experience, I knew I was in for a top notch coaching experience and yet still, she exceeded my expectations. During our sessions together, she enabled me to look at my life holistically and focus down on areas that I wanted to improve.

She asked the right questions, challenged me when I needed to be challenged but always remained positive, allowing me to see things from a broader perspective.

Christy was such a breath of fresh air and I highly recommend working with her.
Wandia