"How in the world can coaching with a horse help me?" I have been asked this question many times, and the answer is both fascinating and awe inspiring… You see, horses are prey animals, meaning they are very gentle and nonaggressive, yet other animals prey upon them. This requires a horse to be very sensitive to the environment around them.
Horses have the power to heal, as well as the power to teach when you recognize the feedback the horse is giving you. They are highly intelligent and very emotionally responsive. They'll move away from unsettling energy that causes them to feel anxious, yet they deeply desire companionship, as they tend to prefer a herd over being alone.
During an Equus coaching session, you'll be interacting with the horse and you'll become part of the horse's environment, thus the horse will intuitively read the energy you are putting out into the world.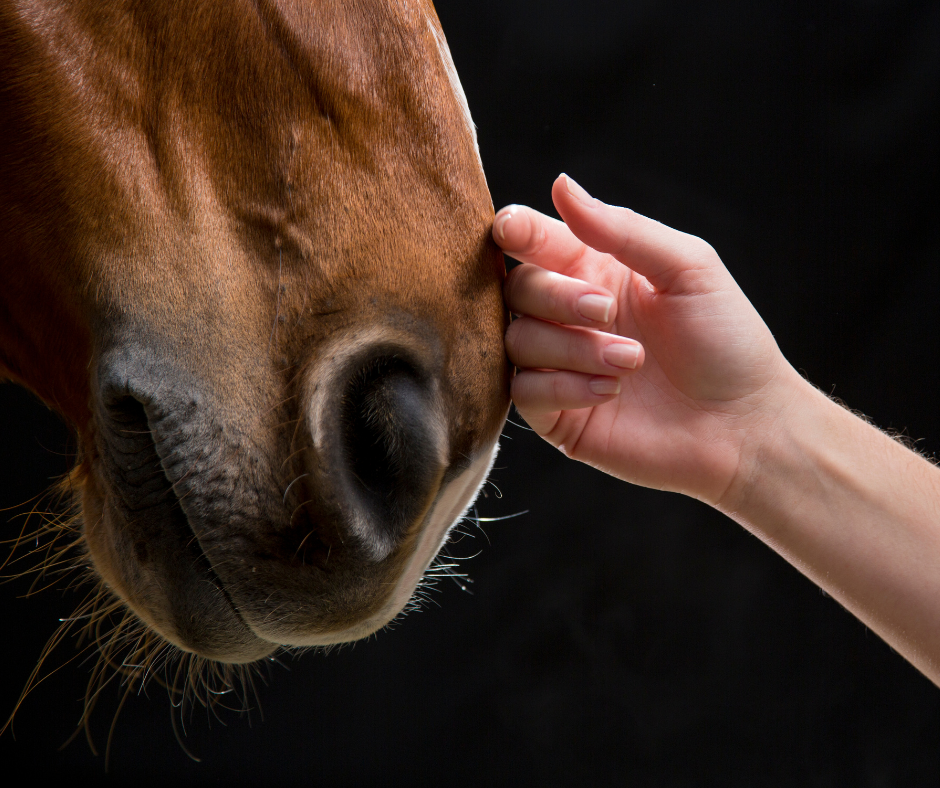 This will bring to light many of the subconscious ways you are showing up in the world and patterns that you carry in your life.
It will also connect you to your inner truth. When you're connected with your inner truth, you can begin to dissolve the subconscious patterns that no longer serve you in creating the life you want to live.
Equus coaching is life coaching combined with the feedback and wisdom of the horses, as the horse mirrors back to you the things you don't see in yourself.
Through this mirroring, you'll discover how making small changes can elicit a change in behavior from the horse, and ultimately the relationships in your life.
Through Equus coaching, you can feel the impact you make on the world and the people around you.
You'll discover how changing your internal, will change your external so you can resolve patterns and ways of showing up that don't serve you in your highest and best way.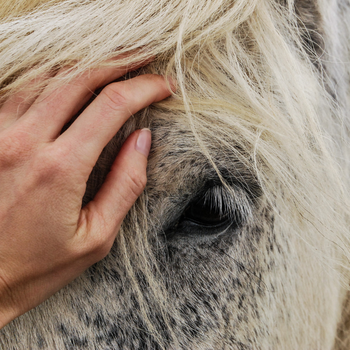 You'll have the ability to recognize and release limiting thoughts that are holding you back from living the life you desire.
Equus Coaching can also help you:
Set personal boundaries
Deepen your relationships and communication
Reveal emotions that may be deeply buried so you can begin to heal
Gain clarity and direction in your life
Guide decisions you need to make
Help you gain trust in yourself
Reduce depression and anxiety
Improve your leadership abilities
Release perfectionism
And so much more…
Equus coaching is deeply personal, and the results are unique to each person.
To participate in Equus coaching, you don't have to be experienced around horses and no riding is involved. All coaching is performed on the ground and will be tailored toward your comfort level.
The purpose of Equus coaching is to leave you feeling lighter and more hopeful, with new insight. The space I hold for you during an Equus coaching session is loving, compassionate, and non-judgmental. I'm there to support you with whatever comes up for you.
I utilize Equus coaching with both Entrepreneurs and men and women who are going through cancer treatment, as well as cancer survivors as they begin to navigate their new life moving forward.
Personally, when I was diagnosed with breast cancer, I found that support groups were not helpful for me because of the varying degrees of fear among the different members of the group.
For myself, if someone was struggling emotionally more than I was, I found myself becoming more anxious in the group setting, as I was taking on the emotions of others expressed in the group. For this reason, Equus coaching was the ideal environment to support my emotional healing.
I have also personally used Equus coaching as an entrepreneur as I was building my own business. Because I have benefited from Equus coaching in my own life, both as an entrepreneur and as a cancer patient and cancer survivor I know the benefits first hand.
I have combined my personal and professional experience and training and created a program to assist these two groups to move toward more healing and wholeness.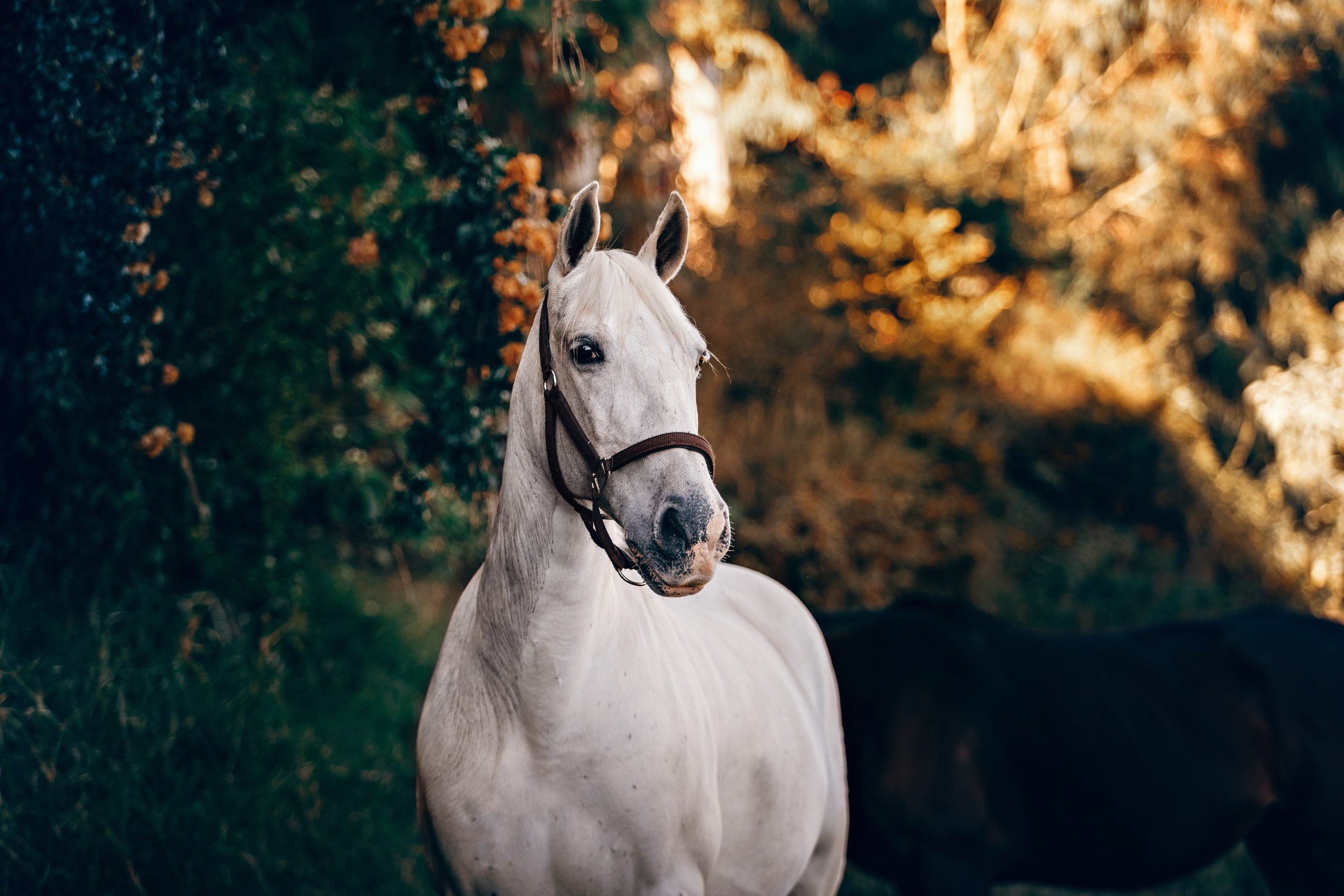 I would like to share a very personal experience I had during one of my own Equus Coaching sessions:
I was drawn to a white horse
at the end of the stalls
next to the wide-open space.
The horse was drawn to me, as well.
She repeatedly rested her head on my shoulder,
repositioning it until it was securely balanced.
A couple times she even went further
to wrap her entire neck around the back of my neck,
pulling me in closer…
The horse was literally hugging me.
At first it startled me,
but mostly because I will never realized
how much a horse's head weighs!
The experience felt very spiritual.
I could feel the horse's soul.
I found it profound that this occurred
When what I needed most was compassion
And loving support
And the horse knew it.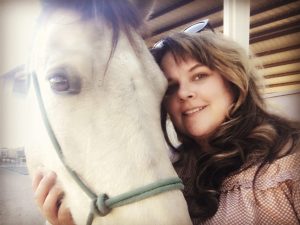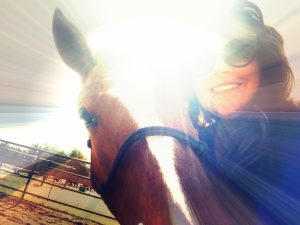 A study by Cerulli followed women who underwent treatment for breast cancer and then engaged in a 16-week Equus program. The study found that after completing the program patients demonstrated a notable improvement in their quality of life, with improvements to both their physical and mental health.
The conclusion of the study *"resulted in reducing negative effects of cancer diagnosis and treatment, reclaiming positive emotions, and development of a new sense of self."
On a final note, clarity and creation occur when we bring to light our roadblocks that were previously not visible to us.
Doing something different, like coaching with the wisdom of a horse, helps us think more creatively to find solutions to questions we have in our life, to heal painful emotions and discover a new healthy way of moving forward so we can live the healthy, abundantly joyful life we desire.
A little more about what Equus coaching is and how it differs from therapy:
Equus coaching is more present and future focused… Who are you right now and where are you going.
Therapy can be focused on past experiences that have shaped you. Traumatic events from the past are better fit for therapeutic model.
Both Equus Coaching and therapy can help you in overcoming fears, coping with stress, and improve relationships with family and friends.
*Lynne Murphy, Brittany Goehmann, and Heather Panczykowski.Healing with Horses: Pilot Study of Equine-Facilitated Cancer Therapy.Alternative and Complementary Therapies.Aug 2019.201-207